Doors of Perception 4 S P E E D - D A Y B Y D A Y -

Doors4 Diary
by Jules Marshall and Jouke Kleerebezem

Thursday 8 November: Introduction and Welcome

Introduction
Welcome
Session 1: Speed Made Visible
Session 2: Why Speed Matters
Session 3: Europe at Speed
Panel: Europe at Speed
Session 4: Changing Speed
Session 5: Design for Different Speeds
Final Debate
The Party

Introduction

This year's Home for Doors was the Amsterdam Stadsschouwburg ('City Theater'), aka the 'bonbon box' -- red plush and chandeliers, a historical theatrical environment. The two days' 45-plus presentations, some of which were performed as short dramatical pieces rather than as lectures, taken as a whole exhibited a dromological diversity of expression and articulation of contemporary topics.

John Thackara in the Stadsschouwburg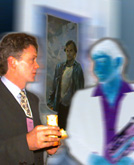 John Thackara comments after Doors4: 'I'm extremely happy with the conference. A full house -- nearly 800 people at the conference -- 70 journalists came, including a dozen from major international newspapers. All the speakers showed up and rather a lot of them were wonderful, I thought. Most importantly, people in the audience seemed to be happy and stimulated by the event. And I got a lot personally from what people said'.
"My favourite moment? I guess sitting in a small balcony listening to Matthias Rieger, and... just before Illich came on. Those were beautifully crafted statements. Everyone was gripped.
My second favourite moment: Jakub Wejchert, a rather progressive but at this moment unlucky European official, addressing a post-conference seminar: I-cubed (Wejchert's project) is about the development of interaction design paradigms for ordinary people. Claude Gaignebet, one of Europe's leading anthropologists, who by some accident was sitting in the audience, put his hand up: 'Mr. Wejchert, are you aware that the term 'ordinary person' has been the subject of intense critical debate since the 16th century...?'. Jakub: 'well, not exactly...'"
John Thackara introduced the fourth Doors of Perception conference, on the topic of 'Speed', by stating that when a year ago he and Michiel Schwarz started investigations into the nature of knowledge as seen from a perspective of acceleration in information transmission and media accessibility, it soon became apparent that a proper history of 'speed' was largely unwritten. Knowledge and technology used to take years to disseminate, but beginning with the telegraph, then radio and TV, today we have near real-time. How much time has been spent reflecting on this? It has been happening for 40 years or less, but why so little before?
Doors conferences do not claim to provide future forecasts: they look ahead by concentrating on the now and evaluating the (recent) past. Consequently, for this edition the goals were set: to make speed visible on the agenda of the design disciplines; to reflect a context for cultural and informational accelerations in relation to the European environmental debate; to break out of the Western viewpoint by inviting a substantial contribution from India; to debate scenarios for design at different speeds.
Introduction
Welcome
Session 1: Speed Made Visible
Session 2: Why Speed Matters
Session 3: Europe at Speed
Panel: Europe at Speed
Session 4: Changing Speed
Session 5: Design for Different Speeds
Final Debate
The Party

original photographs: Wendela Smit
updated 1996
url: DOORS OF PERCEPTION
editor@doorsofperception.com