Day by Day @HOME
Doors of Perception 2 (1994)
Friday | Saturday | Sunday Friday morning 4 November 1994
Director of the Netherlands Design Institute, John Thackara, welcomed 1100 attendees to the second Doors of Perception conference. Three days of both intellectual and entertaining high level talks and discussions were to follow. John Thackara looked back on the situation at the Design Institute and Mediamatic a year earlier, when they discussed whether buns for the expected 150 attendees at Doors 2 were to be provided by a catering service or made at home...
In his opening address Thackara expressed his concern that the conceptualization of home in information technology would only lead to toy town if designers, artists and business would not join in serious efforts to provide content and context. The Institute's Doors of Perception programme is directed at just that, and the yearly conference marks its progress.
Keynote speaker John Perry Barlow introduced his move from ranch to Powerbook in a personal and engaging talk called :"My Daddy is Homeless...". His idea of community as a mental and spiritual ecology provided a reference point that several speakers responded to.
MIT MediaLab's Amy Bruckman introduced the Internet as a place where experts should provide context for users to build in and on -- to design not empty scenery, but a context conducive to a desired type of human activity. To design for interaction. Evaluating MediaMOO and the recently developed MOOSE Crossing (a MUD designed to be a learning environment for children, helping them to develop a more authentic relationship to reading, writing and programming), Amy Bruckman touched on the core of what interactivity is going to be at for the coming period: real time multi-user many-to-many communication -- which could be either text based, or graphical, if only these two options are valued for their own specific qualities.
Multi-disciplinary designers Fiona Raby and Anthony Dunne closed the first morning's sessions with the presentation of their design practice, which is directed at the development of home as poetic inhabitation. Their work is based on the assumption that aesthetics and poetry should not be separated from everyday living. This can be seen in the Fields and Thresholds project (supported by the Design Institute), which explored telecommunicative and behavioural possibilities within a specific location.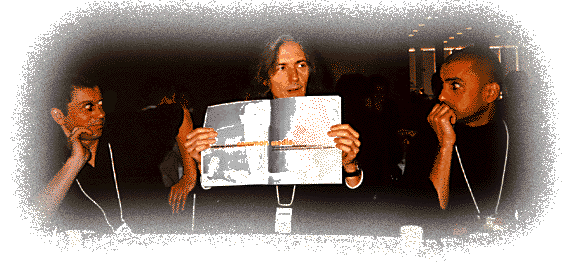 During lunch, Louis Rossetto proudly presents the latest issue of Wired to unsuspecting table company Limburg (left) and Perry (right)
Friday afternoon
Session kicked of with Philip Tabor's Striking Home: the Telematic Assault on Identity. His well researched and witty introduction of light as a medium full of significant information, from Dutch Golden Age painting, via stained-glass windows to active matrix colour, inadvertently warmed up the audience for
Stephen Perrella
's hypnotic performance-like account of `encultured hypersurface' architecture. Stephen Perrella's Hypersurface being an "...enterweaving of Being and Home that is neither inside nor outside and yet both simultaneously..." left the audience very much divided between total interest and total disbelief, as would the other architect, later this afternoon.
Anarchic sufi and author of pseudonymous counter-cultural pamphlets, as well as academic texts on Persian poetry Peter Lamborn Wilson told the conference other stories of home, as Virtual Enclosure -- from the "...ordinary to the point of ugliness...", to the "...Revolution of Everyday Life as a re-imagining of Home ". His spiritual tone enchanted the connoisseurs of home conceptualization, without hiding the subtle humour of his paper for a general audience.
In the last session of the first day, architecture's classic advocate of client participation and Center for Environmental Structure's first man Christopher Alexander presented his life-long focus on Domestic Architecture at the service of well-being. Long silences paced his presentation, which was illustrated with family snapshots and equally intimate pictures of realized building projects for private clients. Like Stephen Perrella's talk, his presentation deeply devided the audience. Alas -- and specifically to the frustration of Perrella, who is as opposed to Alexander's ideas, as one may well imagine -- the planned panel discussion was canceled due to a lack of time.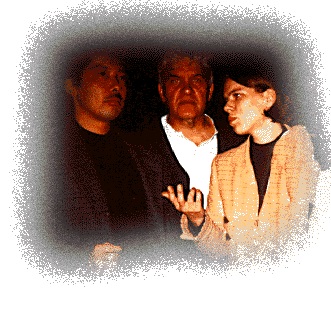 (During Friday night's reception, discussion does take place. Here, Kristi van Riet is challenging Shin-ichi Takemura. In the middle: Anton Beeke looks squarely into the camera...)

Saturday
Saturday morning 5 November
The
@Home
Breakfast Roundtables were a succesfull starter for the Saturday and Sunday. Discussion was moderated by such diverse speakers as Kresten Bjerg from the University of Copenhagen on
The Virtual Home as Interface to Self and Society
, Xerox Parc's Paul Duguid on
Context in the Context of Home
, Peter van Gorsel of the Meulenhoff Publishing House on
Book-ness or the Illusions of the New Media
, to Doors 2 speakers Bert Mulder and Louis Rossetto, or Marleen Stikker on the Digital City
: The First Dutch Freenet
and Mediamatic's Paul Groot on
The CD-rom Home Interface
.
Second Doors' first Dutch plenary speaker Dick Rijken presented a paper which was calledDesigning Experience and dealt with the central issues that he and his colleagues are dealing with in the interaction design curriculum at the Faculty of Art, Media and Technology of the Utrecht School of the Arts: the necessity to deal with change, with the shift from information to experience, and from users and systems to information ecologies, as much as the interaction designer's attitude towards these issues.
AT&T's Vincent Grosso talked about engaging the human mind through the "...most promising device so far..." -- the television set; engagement accomplished more successfully with Form, Color, Motion, Sound. AT&T's working definition of interactive TV, or RC (remote control) TV is consistently based on the "...Entertainment Power of the TV...", the information processing power of the computer and the communication and tranaction power of the telephone -- all rolled together into a new consumer experience.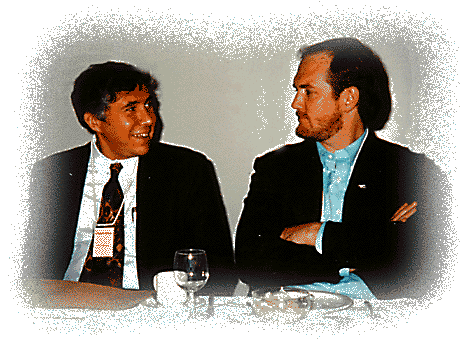 Body language: does Ratcliffe (right) really trust Grosso (left)?
Skeptic Mitch Ratcliffe, editor-in-chief of Digital Media, in his Realities of Interactive Television and Telecommunications Networks sowed some well formulated seeds of doubt as to who a new consumer experience would benefit most: the consumer or the investor in new entertainment technologies and services. The road from consumption to production seemed like a long one in Ratcliffe's talk -- but the realization of equal bandwith in and out of the home emerged as a clear pre-condition. A short panel discussion among Rijken, Grosso and Ratcliffe, on consumer and producer perspectives in networked culture, and on the contextualizing role of the interaction designer in shaping communicational environments, closed this day's morning session.
Saturday afternoon
The other Doors 2 Dutch speaker, critic and author of the 1994 Doors-launched
Het Boerderijmodel
, Pauline Terreehorst, took us to her farm (`boerderij') moulded home, where a loving and productive family lives its linked community life. She introduced her personal utopian critical perspective, aimed at the shaping of the house as an information processing environment, giving equal possibilities to close family relationships, and to information openness to global networks. In the following re-introduction to the material world, by Domus Academy's
Marco Susani
, the smell of intimacy rose to still higher levels. Susani's account of our
Sensorial Expectations of Home
was witty and beautifully illustrated. It strongly reminded interaction designers that if we open our house to the virtual world, we should be able to build the same, deep qualities of the material world into our relations with that virtual world.
Manuel De Landa shifted gear with his Homes: Meshwork or Hierarchy? Drawing parallels with the emerging of animal territories, he emphasized the rules and (emergent) properties of self-organization, in an inspiring and very topical analysis of interactive creative force in different environments.
David Chaum's paper The Ecash of Digicash on his own Amsterdam-based company Digicash's Ecash cyberbucks, (software that facilitates untracable `cash' transactions in cyberspace), challenged the conference's understanding of anonymity and created an emotional discussion, mainly between Chaum, Barlow and Ratcliffe, on privacy issues. The short panel discussion did not bring any solutions within available time, which called for an extra panel in the Sunday lunch break.
Saturday Night
Doors threw one hell of a party where Local Coloured `snert' (pea soup) was wheeled in horse-drawn vehicles, fused with oysters and rollerskate-served spoons of caviar against the audio backdrop of a live Carribean cum DJ-mediated Tech music mix at 150bpm...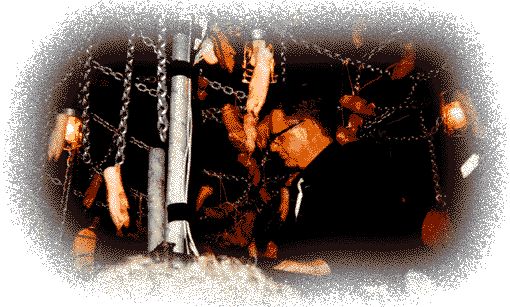 Later that night: Willem Velthoven on a chariot of pigs, finally content...
Sunday
Sunday morning 6 November
Among others, Sunday Breakfast Roundtables featured Doors 2 speakers Gillian Crampton Smith, of London's RCA and McLuhan Institute's Derrick De Kerckhove, the Well's Bruce Katz, ID Magazine's Chee Perlman, Amsterdam cultural center Paradiso's Caroline Nevejan (
Barbie Goes Digital and Seeks Byte
), Dutch artists Paul Perry (
The Nerds Shall Inherit the Earth
) and Remko Scha (
Action, Reaction and Interaction: The State of `True' Interaction in Multi-Media Systems
) and Mediamatic editor and novelist Dirk van Weelden.
University of Brighton's Jeff Taylor (Senior Lecturer and Researcher in Information Studies) opened plenary sessions this Sunday morning with his Towards Domestic Heritage Multimedia paper. From personal experience as well as academic research, he gave account of the changing qualities of family (community) memory and the status of its relics.
Taylor was followed by San Francisco-based artist Lynn Hershman, who gave an engaging overview of her work, stressing especially the video pieces Virtual Love & the Twisted Chord. These feature-length titles bear witness to the changing technological and communicational conditions that both facilitate and threaten privacy and intimacy in new ways. To show her works at length Lynn Hershman and her audience profited from the Doors 2 presentation room's facility, where "The Twisted Chord" was shown.
Japanese cultural anthropologist and interactive media theorist and designer Shin-ichi Takemura from Touhoku University of Art & Design spoke on the influence of system concepts typical to the Japanese traditional home, on the design of the interactive multi-media network environment. His beautiful examples from traditional Japanese Culture and their placement in interactive media applications received much acclaim from the audience.
Independent Austrian new media consultant and expanded book specialist Florian Brody changed the title of his paper My Home is my Computer is My Home into My Home is my Memory and set of for an entertaining and well illustrated talk, in which he argued that the concept of home is not built on the place alone, but that the memory that holds the traces that are constitutive for Home is built by images of places and places for images. Home is no longer connected to the place we own but to the multistructural concept of where we perceive ourselves to be in this world.
Sunday lunch break was dedicated to an extra panel discussion on privacy and anonymity on the Internet. John Perry Barlow, David Chaum, Manuel De Landa, Caroline Nevejan and Mitch Ratcliffe, moderated by Mediamatic's Willem Velthoven picked up where they left of Saturday.
Sunday afternoon
featured MIT's Dean of Architecture William Mitchell as the first speaker. He presented his concept of Recombinant Architecture. First he gave an account of some collaborative student projects. Then he argued that digital information is a solvent that dissolves traditional building types and allows the remaining fragments to recombine in new ways. His upcoming book
City of Bits
is centered around this concept of architectural development.
Japanese NTT researcher Hiroshi Ishii showed idealistic zeal in his talk Towards Seamless Collaboration Media. His presentation was about the development of his ClearBoard, a Human/Human Interface, designed to facilitate telematic collaborative creative and research work in which a subtle contact between participants can influence decisions, like it does in a physical proximity setting. His research leads us beyond being there, to a collaborative practice that surpasses the simulation of presence in conventional telepresence solutions.
Pattie Maes from MIT's Artificial Intelligence Laboratory and Media Laboratory introduced the audience to its future assistants Virtual Pets, Digital Alter-Egos and other Software Agents. Based on the observation that people are increasingly overwhelmed with all sorts of information and entertainment, Pattie Maes and her group at MIT got involved in building semi-intelligent systems, that can help people filter all this information and select items they are really interested in. As her presentation proved, she succeeded very well in programming agents to be both useful and entertaining. The so-called Ringo musical advisory program (try it: e-mail ringo@media.mit.edu , with `join' in the body), is just one publicly accessible example.
Doors 2 last speaker was artist and director of the Karlsruhe ZKM New Media Institute Jeffrey Shaw, who introduced his interactive installation art in all its aesthetic and research aspects and brilliantly acomplished the difficult task of closing a conference of such conceptual and visual richness.
Home Again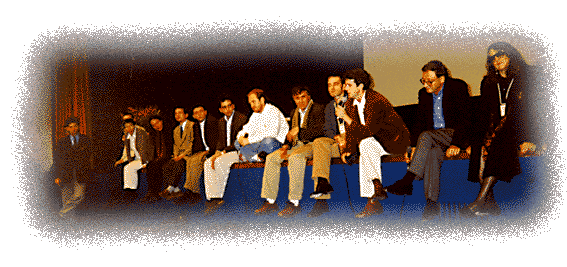 Last year's traditional line-up of all speakers and moderators, feet dangling from the edge of the stage, informally interacting with each other and the audience, was successfully repeated. Wrapping up some of the topics, general concern was uttered, as much from members of the audience as from speakers and organization, to develop
cyberspace
into a democratic, entertaining and truly interactive multi-cultural realm, designed to mediate information on the broadest conceivable scale, from the anonymous and extremely personal and private to the definitely public, in a perfected many-to-many system.
Pictures on this page by Wendela Smit